Programm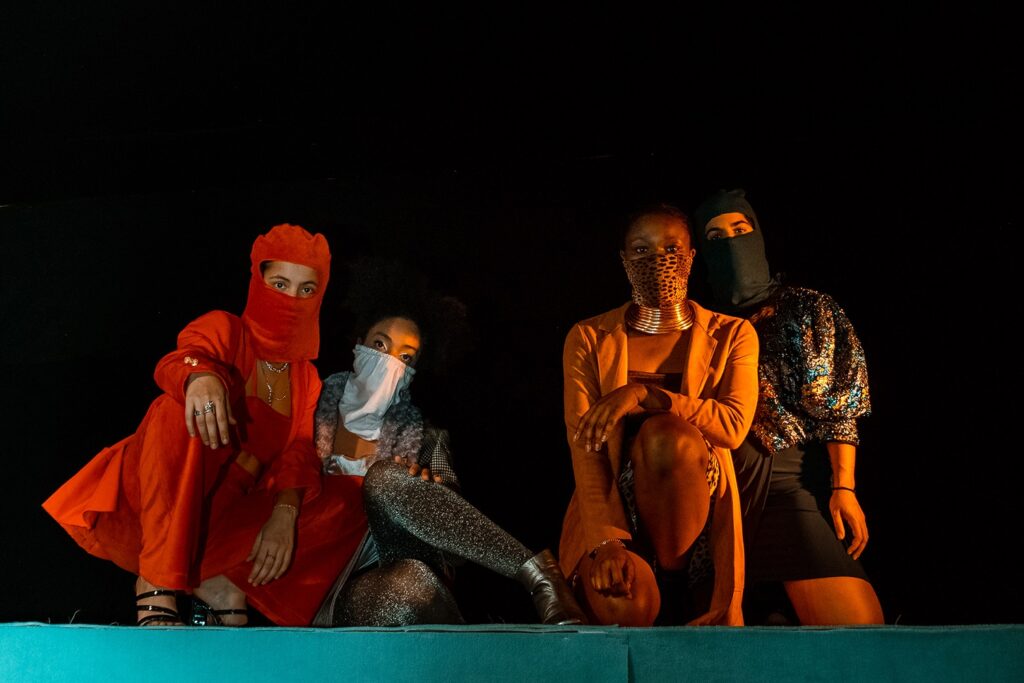 Halt (Foto: Eunae Anna Jo)
I want to scream, cry, give free rein to the untamed rage inside me, but I cannot. I don't even have the strength to cry and just lie there, still and motionless. Why am I still ashamed of my pain, even if it is a collective one?
›Halt‹ is a collective play development, initiated by Thu Hoài Tran and Elisabeth Maria Kuzel and tested together with an ensemble of young Black women and women of color. The ongoing right-wing terror in Germany is the motivation for their union. They explore how solidarity can function intersectionally. What does resistance mean and what are the meanings of privilege and cohesion within communities? The tense, multi-voiced responses offer insights into the ensemble's individual and collective yearnings. They play with memories, are in the now, looking to the future. They form a swarm, submerge themselves. They swim against inner and outer resistance, emerge and become loud. The performance is a collective self-empowerment process at the intersection of theater and empowerment, aimed primarily at a non-white audience. It is a play development to breathe and cry out. To laugh, to cry, and to fight. Together.
As part of the Performing Arts Festival Berlin 2022, the Berlin Ringtheater will show a recording of the play followed by an audience discussion.
Information

Förderung

›Halt‹ is a project in cooperation with i-Päd Initiative intersektionale Pädagogik funded by the Berliner Projektfonds Kulturelle Bildung.
Credits

Mit

Jacqueline Grumme, Josephine Papke, Jeanne-Ange Megouem Wagne, Mariann Yar, Sindi Zeneli

Konzept und Regie

Thu Hoài Tran und Elisabeth Maria Kuzel

Bühne

Rimma Elbert

Kostüm

Mariama Sow

Maske

Djamila Rachor

Film

Emine Demir

Kamera

Eunae Anna Jo, Sajad Bayeqra

Dramaturgie

Dandan Liu

Künstlerische Assistenz

Sanni Est

Chorische & musikalische Unterstützung

Sanni Est, Christine Seraphin

Prozessbegleitung

Tuğba Tanyılmaz & Edwin Grewe (I-Päd)

Somatic empowerment Coach

Pasquale Virginie Rotter

Theaterfilm Director of Photography & Postproduction

Eunae Anna Jo

2. Kamera & Ton

Sajad Bayeqra
Galerie